ABGESAGT: TOXIK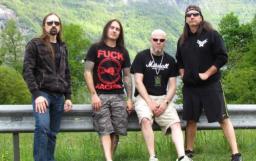 ABGESAGT: TOXIK (US / Thrash Metal)
Nuke (AT / Thrash Metal)
Psycho Mania (DE / Thrash Metal)
DAS KONZERT WURDE LEIDER VON SEITEN DER BAND ABGESAGT
EIN NEUER TERMIN STEHT DERZEIT NOCH NICHT FEST
Leider findet das Toxik Konzert nicht statt...
... folgendes Statement erreichte uns:
To whom it may concern;
At this time Toxik will be unable to perform at your venue on 12/9, 13/9, 14/9 2017 respectively due to unforeseen expenses on this tour. We sincerely apologize for any inconvenience this may have caused you and truly regret having to do so. Let it be known that Toxik will, in good faith, perform a "make up" show sometime in the future with terms to be set at a later date. Thank you for your understanding.
Thank you
Toxik
---