CARBONAS (atlanta, us)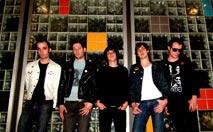 CARBONAS (atlanta, us)
MUGWUMPS (bachelor rec./a)
If you got sweat, BRING IT! If you know go-go girls, BRING THEM! If you got money, BRING IT!!! WE SHALL PROVIDE THE ROCK & ROLL!!!
The two leading companies in rocanrol (TM) business, CHOKE MEDIA EMPIRE and BACHELOR RECORDS are crossing their switchblades to bring you the onlyy thing that's hotter than Atlanta / Georgia's asphalt! THE CARBONAS!!!!
BOOLAH!!! Whats that you ask? Well It's a wild mix of 70s POWERPOP and 80s PUNKROCK, think REAL KIDS, ADOLESCENTS, UNDERTONES, ZERO BOYS, BLACK FLAG, BUZZCOCKS, plus bop-pills and cheap booze. They just released their third
album on GONER RECORDS - the Memphis Boss Sound Label - and now they try to invade EUROPA! DOUBLE-HA! Let's have a par-tee with these kids and kick them out afterwards (if they do not behave!). We have a dunce par-tee right
afterwards with soul-shakin wild beat-up-a-loo-la music until we pass out.
"So far the CARBONAS don't have any veg-out pills in their liquor/medicine cabinet. Its well known that people in the south move at their own pace and these Georgia grits got red-dirt stink coming out every orifice making this
all a big face-melting rock-n-roll blast. Too many fast punk bands just go blam blam, these guys go blam wiggle blam and still keep things headed straight into the gutter."
ADDITIONAL INFO: If you like "garage rock" like WOMBATS, PIDGEON DETECITVES, ARCTIC MONKEES or any band from England with 80 Euro haircuts - YOU ARE NOT
INVITED!!!
---