THE CARPETTES (uk)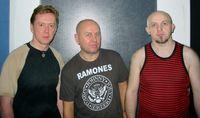 THE CARPETTES (uk)
THE NOT AMUSED (ger)
LANDMINE SPRING (cz)
77er Poppunk Legenden aus England!
Auch wenn sie nie den ganz grossen Durchbruch schafften, waren THE CARPETTES neben Bands wie den Buzzcocks von Anfang an eine beständige Grösse im UK Powerpop-Punkzirkus. Nichts wurde ausgelassen, von einigen Auftritten beim legendären John Peel bis hin zu achtbaren Charterfolgen. Es geht also ab ins Jahr 1977, und wie kann ein solches Erlebnis schöner gefeiert werden, als mit einem Original aus dieser Zeit!
Als nahezu perfekten Support gibts an diesem Abend THE NOT AMUSED aus Berlin. Aus unzähligen anderen Bands bekannte Musiker machen diese Gruppe fast zu einem "Poppunk/Mod Allstarproject". Live action ist also garantiert.
---