CHOKE FEST - two days of scorching crappy garage punk!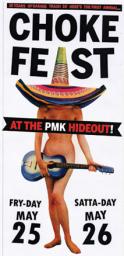 CHOKE FEST - two days of scorching crappy garage punk!
DAY TWO
CLOROX GIRLS (USA)
A couple of years ago Thurston Moore and Byron Coley quipped that Clorox Girls are harder to ignore than a trouser full of antlers." But why.... Imagine Buddy Holly living in 1979 Los Angeles, taking a whole lot of speed... throw him a surfboard on the beach, then painfully relocate him to rainy Portland, Oregon, they already played the PMKay twice, and eveytime it was a nonstop-party-train" New Album out on BYO Records, home of THE BRIEFS!!!
THE FEELERS (USA)
A review of their last fulll lenght sums it um pretty good: "Damaged trash garage so scrambled and ugly that it made me want to fuck furniture. This is as gloriously stupid as Crime (the band) and crime (the leisure activity)." Here, on their first euro tour, they present their new 7" out on our label. Expect a special showcase of a very special band"
SURFAHOLICS (Austria)
Celebrating this anniversary with us are the SURFAHOLICS who also started 10 years ago! We're very glad to have "em at the PMK again! With their unique blend of RawknRoll and Punk Rock they will start the engine of the party dragster on satta-day night! So come early kids, and watch this pack of RawknRollers march forth, with catchy vocals, pounding drums and hipshakin hooklines they are wilder than a 2 dollar hooker, that fer sure!
DOORS: 9 PM
SHOW STARTS: 10 PM (REALLY!!!)
DAMAGE: 12 EUROS for both days!
CHOKE FEST DAY 1: THE HEARTATTACKS + THE MAKEOUTS + THEE ELEKTRAS
CHOKE FEST DAY 2: THE FEELERS + CLOROX GIRLS + SURFAHOLICS
CHOKE MEDIA EMPIRE formed in 1997 in tiny Innsbruck, Austriah, righ around when the second wave of emo started reigning terror down across the state. Coincidence? No way, sir. There were 7 out of 10 kids who just got into "punkrock" like Samiam, Sunny Day Real Estate, Get Up Kids or Jawbreaker, the rest uff em were still listening to Nirvana at that time. Buzzy Greene (founding member) says: "It was terrible! For us it was simply unacceptable that young kids's musical taste got destroyed by whiny college rock that sucks balls. So we started this empire!"
Beginning with a pamphlet made out of lies and some pics of nakkid girls the empire started to bring the seed of raunchy, dirty, restless and dangerous rocnrol (TM) amongst the people, this was the start into a decade of debauchery... Now, ten years later, it's time to celebrate! two days of wild rocanrol (TM) with our favourite bands, for onlee 12 Euros!!! That's cheap creep... so better be part of this or lay off!
The first 50 peeps who buy a ticket will get a FREE BACHELOR RECORDS LABEL SAMPLER
(This is only avail here or from the Bachelor Bands, limited to 200 copies!)
PLUSSSS: THE ELEKTRAS and THE FEELERS present their new 7"es!!! Plus DJing" niiiice drinks" giveaways" stag/trash movies" many many surprises (we just told our lawyers to check if everything is waterproof")
---