DARK STAR (USA, 1974, 83 Min.)
| | | | |
| --- | --- | --- | --- |
| Donnerstag 14.12.2006 | 20:00 | frei! | hosted by |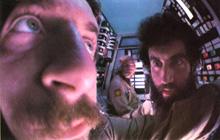 DARK STAR (USA, 1974, 83 Min.)
STRAIGHT TO HELL (USA, 1987, 86 Min.)
#4 Bizarres Kino
DARK STAR (USA - 1974 - 83 Minuten)
Dark Star ist eine Sciencefiction-Film-Parodie von Regisseur John Carpenter aus dem Jahr 1974 und gleichzeitig eine Hommage an den Film 2001 - Odyssee im Weltraum. Die Low-Budget-Produktion avancierte zum Kultfilm, was nicht unwesentlich auf die philosophischen Exkurse mit der Bombe Nummer 20 zurückzuführen ist.
STRAIGHT TO HELL ( USA - 1987 - 86 Minuten)
featuring Sy Richardson, The Clash frontman Joe Strummer, Courtney Love, Dick Rude, Dennis Hopper, Grace Jones, Elvis Costello, Zander Schloss, Xander Berkeley, and members of The Pogues. Its tagline is: "A story of blood, money, guns, coffee, and sexual tension."
---