the decline_unexplained
| | | | |
| --- | --- | --- | --- |
| Donnerstag 09.05.2013 | Doors: 20:00 | €6.- | hosted by Mutiny! |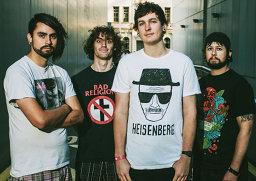 THE DECLINE (aus)
UNEXPLAINED (at)
Arrr ihr Landratten!!!!
THE DECLINE are a 90s style skate punk band from Perth, Western Australia. They formed in 2006 and are heavily influenced by the likes of Frenzal Rhomb, NOFX, Lagwagon, Descendents, Less Than Jake & Propagandhi.
After much planning and preparation, the boys flew over to Fort Collins in Colorado where they recorded their debut album 'I'm Not Gonna Lie To You' at the Blasting Room with Bill Stevenson (Descendents/ALL) and Jason Livermore who have recorded such bands as NOFX, A Wilhelm Scream, Rise Against, Useless ID, and many more.
Their second album, 'Are You Gonna Eat That?' follows its predecessor with their signature punk sound and social awareness and delves deeper into the evolution of relationships and the life of a touring band. It was released in September 2011 on Australian Punk/Hardcore label Pee Records and in Japan on Bells On Records in February 2013
THE DECLINE have been touring consistently around Australia cementing themselves in the Aussie music scene for the past few years and have played with international artists such as Anti Flag, No Fun At All, The Flatliners, Guttermouth, Strike Anywhere, No Use For A Name, Smoke or Fire, Pour Habit, Unwritten Law, Lagwagon and many more.
THE DECLINE will be supported by an Austrian Hardcore Band from Wörgl – UNEXPLAINED. They have played many gigs in the past couple of years with great and internationally known bands like Sick Of It All for example.
Unexplained was found in the year 2005. They released their debut album 'scream to the world' in 2008 on Burnside Records/Rebeat, played shows all over Austria, Germany and Italy and shared stages with bands like Sick of it All, Strike Anywhere, The Loved Ones, Backfire, The Bones , Smoke Blow, Only Attitude Counts, COR, LOIkaemie, Frontkick, Adam Bomb and more.
So stay tuned and C YA IN THE PIT!
---