DeeCRACKS, KINGONS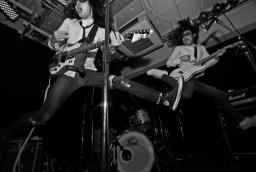 KINGONS (jap)
DEECRACKS (at)
Punkrock & Pop Punk
KINGONS (JAPAN)
Crazy Samurai Punk Rock from Tokyo! This is one of the most energetic live bands you will ever witness! They have been touring USA lately with Punk Rock Allstars The Queers, now the time has come to conquer the Alps!
DEECRACKS (AUSTRIA)
When it comes to punkrock, DeeCRACKS is one of the best bands of that genre to come out of Austria. They are uncompromisingly staying true to their vision of rock'n'roll and have brought their energetic 3-chord power live shows to perfection throughout ten years of touring the Northern Hemisphere.
For Fans of Ramones, The Queers, Motorhead, Backyard Babies, The Copyrights, Hard Ons.
---