HATEFUL
| | | | |
| --- | --- | --- | --- |
| Samstag 19.05.2018 | Doors 20:00 | Start 21:30 | AK €8.- (kein VVK) | hosted by Rude Sounds |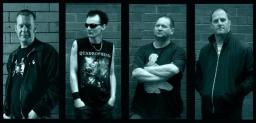 HATEFUL | THE ZIPS
EROTIC DEVICES
Hateful are back! After taking the p.m.k by storm 2.5 years ago they are here again to bring the 'Noize from the streets'. Surely one of the best bands around, if you're into melodic (Street-)Punk with influences of early Seventies Glam-/Rock'n'Roll and Pub Rock Bands, as well as a hint of Eighties Oi!. Their melodic anthems with smart, classic songwriting really make Hateful one of a kind, a must see for every Punk and Rock'n'Roll fan!
Starting in 1978, pacing the floor at Punk's birth in the Seventies, splitting up as it was overtaken by Ska and New Romantics in the Eighties, and re-forming due to European bootleg interest in their back catalogue in the Noughties The Zips, are keen to make up for lost time. 2006 saw the release of their debut album – 27 years after their debut single! Since then they kept on releasing new material and delivering rip-roaring performances!
This 77 Punk outfit from Berlin will hit you like a steamroller! Fast, melodic old-school UK Punk mixed with Ramones-style bubble-gum-punkrock. Style, attitude, energy – Erotic Devices sure as hell got it all! Pogo-party guaranteed!
---