THE HOTLINES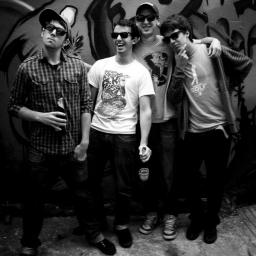 THE HOTLINES (uk)
THE HOTLINES are a Power Pop Punk band from always sunny Brighton UK. They probably remind you of Teen Idols, because they write supergood songs. Check out their myspace page and tell me I'm wrong.
WHY GO THERE???
1. It doesn't happen too often that there is a band from Great Britain that is worth listening to. Most of them play boring indie pop and look like shit. THE HOTLINES look quite okay, but the best thing about them is that the manage to play breathtaking POWERPOP / POP PUNK.
2. It's happening on a Sunday night and you know best that Sunday night always bores the fuck out of you. No one wants to go out, nothing on TV, everyone wants to go to sleep early.... Bah! Let's go to the punkrock show!
3. Everyone is pretty hungover from Friday and Saturday Fun, but alcohol is still running in our system - so we just need one or two cheap drinks to get the machine rockin' and rollin' again! Plus, this show is only five euros! Go for it!
---