KEPI THE BAND (us)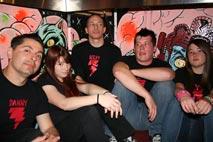 KEPI THE BAND (us)
THE MUGWUMPS (a)
File under: Ghouls Night out Part IV -> work sucks, let's party!!
Nach der Auflösung der GROOVIE GHOULIES zieht deren Sänger/Songwriter Kepi nun mit neuer Band durch die Lande und schafft es, genau die Elemente miteinzupacken, die den Sound der GG so speziell machten. Poppiger Lo-Fi Punk, mit Country und Folk Einflüssen; Texte über B-Horror, Monster, Spaceships, Zombies etc.; dazu eine unverwechselbare Liveshow voller Authentizität!!
Wer die RAMONES, HEAD oder auch NEIL YOUNG, BOB DYLAN mag, wird auch bei Kepi debil grinsend vor der Bühne stehen.
THE MUGWUMPS kurz und auf den Punkt: PopPunk mit dem Rasiermesser plus einem Container voller Ohrwürmer. You know the deal!
---