THE KING KHAN & BBQ SHOW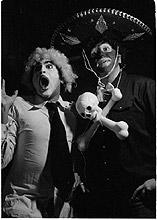 THE KING KHAN & BBQ SHOW
Witnessin" a KING KHAN & BBQ SHOW is a experience you surely will never forget. More than ten years ago they played in the legendary SPACESHITS, after they split in 1999 (with a lot of records on the worlds premiere labels like SYMPATHY FOR THE RECORD INDUSTRY) the went on to other shores, King Khan on to the land of Kraut and Honey and found his salvation in KING KHAN AND HIS SENSASIONAL SHRINES, while BBQ made several records with his new band LES SEXAREENOS, until he started his one-man band thing BBQ.
In 2002, BBQ begann visiting KING KHAN in Berlin, and so they started to jam in a Nazi-bunker rehearsal space. The black magick remained intact. Songs flowed endlessly like blood from a cancerous abcess. They took it easy, honing their craft, playing sporadically around Germany and Spain to crowds outraged by their incredible sound and nasty live show. Orgiastic, anarchic, hypnotic and personal are the shows to this day. I've seen the blow-jobs and blood, the pick-ups and puke, the dancing and the laughing. Two guys. One smashing snare, bass drum and tambourine with his bare feet, molesting his guitar and singing like a possessed angel. The other spinning and howling like a freak while belting it out on his guitar like a real gone savage. What does it all sound like? It sounds like five men. With the power to surely heal the sick and raise the dead, and BBQ's untouchably beautiful crooning blasted with Khan's Chuck Berry'd hog-wild guitar, it's no wonder they're touted as the most unrestrained and riotous party band on earth. And conversely, their ability to master the long-lost and lonely doo-wop, Don & Dewey'd bop shoo-wop sounds still can't cover up their ingenious raw punk sneer lurking under their unmitigated ass-shaking anthems.
BLAH BLAH BLAH. In other wurds: A perfect band for another choke media empire winter dunce par-tee.
---