A LOCAL HEAVY ROCK NIGHT feat. LYDIA´S NIGHTMARE HOME WE ARE THE CORPSES OF TOMORROW
Freitag 04.02.2011

doors open 21:00
Konzert Start 21:30
5.-
hosted by lovegoat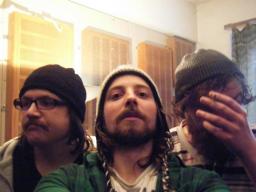 A LOCAL HEAVY ROCK NIGHT feat.
LYDIA´S NIGHTMARE
HOME
WE ARE THE CORPSES OF TOMORROW
Diese Nacht steht unter dem Motto "support your local scene" ! LYDIA'S NIGHTMARE konnten schon vor Acid King beweisen, das sie einige Riffs auf Lager haben die unter die Haut gehen. Wir dürfen uns auf einen Stoner Jam freuen, der einigen alten Hasen im Biz das fürchten lehren sollte.
HOME sind uns auch als Sahara Surfers bekannt. Stoner gibt es an diesem Abend aber keinen von ihnen. Stattdessen bekommen wir die Doom-Keule und die Sludge-Axt um die Ohren gehauen.
WE ARE THE CORPSES OF TOMORROW bieten He-Man Riffs, klebrige Bässe und schmetternde Drums. Sensationell, muss man gesehen haben!
---