THE REAL TURDS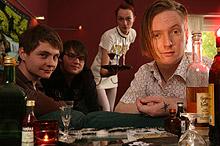 THE REAL TURDS
THE SEDUCERS
Many bands play rocknroll, THE REAL TURDS are rocknroll. They've been at this a long time. You'll find them on a sat-uh-day night in a little club where the beer is stale and the PA is about to blow up, playing songs the learned from scratchy old records: DICTATORS, DWARVES, MURDER CITY DEVILS, mixed them up with garage influenced poppers like THE HIVES and PRETTY GIRLS MAKE GRAVES and created a unique monster of a organ driven 60ties punk extravaganza, a invitation to shake hips and go go cray-zee. Some of you may remember the night when the PMK turned one, REAL TURDS ringleader Tex Dixigas played a acoustic set in the par-tee bus" if he scratches his balls it is still a punker moment than all of this Turbojugend Wannabee Clown Bands will ever have.
Starting this night of brain listering rocanrol - are THE SEDUCERS, with members of LEOPOLD KRAUS WELLENKAPELLE and LIQUID LAUGHTER QUARTED, this threesome sounds like a dirty garage rock band should sound like, uncontrollable, demented and drunk, no wonder they state bands like GHETTO WAYS, WOGGLES and THE SONICS as main influences".
Bring your dancin" shoes. This is part 1 of the choke media empire winter dunce par-tee.
---