ROCK AND ROLL ADVENTURE KIDS (Oakland, CA, USA)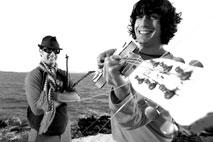 ROCK AND ROLL ADVENTURE KIDS (Oakland, CA, USA)
NOBUNNY (Tuscon, AZ, USA)
HALF MAN / HALF RABBIT plus the RNR KIDS go cray-zee
Many of you may have witnessed last years RNR ADV KIDS showcase at the Project. Many of you have been blown away by the garage punk extraordinaire these kids fired at us... now they are back and I can tell you, the two wolf brothers have lined up another fine choice of wild and relentless firecrackers that will make you bounce like a rubber ball.
This time Party Monster Nummero Uno, NOBUNNY is following their lead. Half man, have rabbit, but 100% filled with candy coated rocanrol (TM) anthems!!! Don't snooze, bring your remarkable ass to the PMK this Wednesday (THURSDAY = FREE! YIKERS!), and tell everyone who likes to freak out.
About 4 gazillion party hits will be served after the show by a fine selection or drunken Djays.
---