15 Jahre popistisches Golddiggertum - 15 Jahre SKUG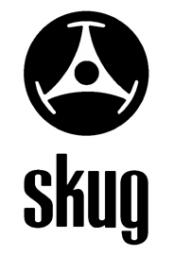 15 Jahre popistisches Golddiggertum - 15 Jahre SKUG
Jubilee-Party des Mindfuckmagazins für Sounds & popkulturelle Abwege
LIVE : THE CLOSING / DJs: CHILO (GB, of S'Express-Fame), DIDI NEIDHART (Skug)
Oktober 1990: Die Nullnummer von Skug erscheint mit Henry Rollins' tätowiertem Rücken am Schwarz-Weiß-Titelblatt. 15 Jahre später sind die Cover in Farbe, ebenso bunt ist der Inhalt. Wieso sollen sich auch Improvisationsmusik & Britney Spears ausschließen? Oder Western-Swing & Afro-Futurismus? Oder Punk & Disco? Oder »Neue Musik« & Operettenmelodien? Oder Jacques Lacan & Lester Bangs? Oder Industrial & Exotica? Oder Hasil Adkins & Chicago House? Oder Attwenger & Missy Elliott? Oder Queercore & Folk? Oder Sun Ra & Martin Denny? Oder Brian Wilson & The Melvins? Oder Louis Armstrong & Detroit-Techno? Eben!
Chilo aka Chilo Eribenne is a charismatic London based turntablist, vocalist, performer and clubhost. Her earlier work include vocals, stage performing and touring with S'Express fame during the period of their first album entitled »The Original Soundtrack«, which included the number one singles »Theme from S'Express« and »Hey Music Lover«.
THE CLOSING - from Austria, appearing on new Anticon sublabel Sixmonth and Laton are the most burning newcomers that strike out from the austrian scene at the moment and beside they are one of the most favourite groups of Anticon's own Sole.
---