Brainbangers Ball VOL III
Samstag 23.04.2016

21:00
VVK €15.- (Oeticket)
AK €18.-
hosted by Poison for Souls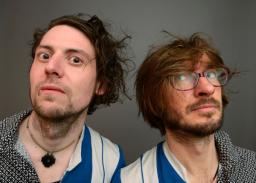 Brainbangers Ball VOL III
DYSE (New Noiserock Wave - GER)
STINKING LIZAVETA (Doom Jazz - USA)
KALEIDOBOLT (Fuzz / Psych- FIN)
DYSE sind eine Gitarre, ein Schlagzeug und zwei Musiker, die sich und ihr Schaffen nur schwer beschreiben können: "Eine Bezeichnung für uns und unsere Musik haben wir nicht. Ich habe keine Ahnung, ebenso wie viele, die über uns geschrieben haben", sagt Schlagzeuger und Sänger Jarii van Gohl. Ihr wilder Mix aus Rock, Metal, Punk, Pop, Jazz und Blues funktioniert auch so: "Die Gitarre läuft über insgesamt sechs Verstärker. Zwei davon sind Bassverstärker, drei Gitarrenverstärker und ein speziell aus alten Röhrenradios gebauter Irgendwas-Verstärker. Das klingt ziemlich fett", erklärt Jarii.
STINKING LIZAVETA is a power trio from Philadelphia that plays heavy instrumental rock. Music might categorizes them as "doom jazz". Their 1996 debut album "Hopelessness and Shame" was recorded by Steve Albini. Albini was so impressed by them, he brought them to the All Tomorrow's Parties festival he co-curated in 2004.
KALEIDOBOLT is a power trio that came together in early 2014 in Helsinki. In the short time they' ve been together, they' ve gained the reputation of being one of the most exciting live bands in Finland. Their music is a dizzying maelstrom of progressive song structures, crushing riffs and loose psychedelic soundscapes, delivered with joy and ferociousness.
---