MEMORIES OF APOCALYPSE (ita) / FOREVER ENDS TONIGHT (at) / SURVIVING THE SUNSET (at)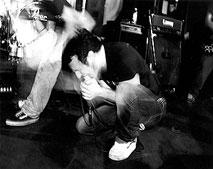 MEMORIES OF APOCALYPSE (ita) / FOREVER ENDS TONIGHT (at) / SURVIVING THE SUNSET (at)
MEMORIES OF APOCALYPSE "...we know that this world is running against our ideas, we simply try to demonstrate that a change is possible." MOA sind eine Metalcore-Band aus Italien - ihren sound beschreiben sie schlicht und einfach mit Leidenschaft und Chaos... und das kann mensch getrost so hinnehmen! Mit ihren schönen ruhigen virtuos gespielten Passagen und ihren progressiv chaotischen Ergüssen dürfte jedem/r Genüge getan werden.
FOREVER ENDS TONIGHT "... just pure fuckin' metal with lots of melodies, guitar harmonies, powerful drumming, aggro-aggressive vocals and lyrics about the negative aspects of interpersonal relations and how life can fuck you up some times ..." Dem lässt sich eigentlich nichts mehr hinzufügen. Wer sie bei ihrem letzten Besuch in Ibk gesehen hat, weiß was ihn/sie erwartet. Alle anderen dürfen gespannt sein.
SURVIVING THE SUNSET "... be a part of their energetic live performance, witness all the heart and passion that's within their music and become a part of surviving the sunset yourself ..." STS kombinieren hämmernde Metal-Riffs mit powervollem Hardcore und all der Energie und Leidenschaft, welche die einzelnen Mitglieder einbringen.
---