NOBUNNY_BAD SPORTS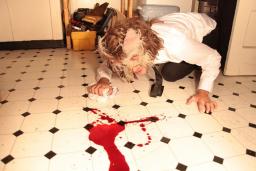 NOBUNNY (usa) | BAD SPORTS (usa)
NOBUNNY (Oakland, USA) It's a Half Man, Half Rabbit, Half Nude, lo-fi, bubblegum garage rock soundtrack to sweethearts holding hands and kissing on a long walk home to a rock and roll orgy presided over by Little Richard, Motormouth Maybelle, Alan Freed and Joey Ramone. If you aren't instantly in love the second you are listening to a NOBUNNY tune for the first tim, I'm afraid there isn't a fun bone in your body or a human heart in your chest. We had him at the p.m.k several years ago, and it was a blast! 150 people went berserk (in a good way!) when NOBUNNY took the stage and was living it up to the high expectations! He may be an oddity, not exactly reinventing the wheel, but his stage show truly stands out, and while touring all over the world the amorous and occasionally frightening NOBUNNY has been captivating audiences and new believers since easter 2001 (the day Joey Ramone died).
BAD SPORTS (Denton, USA)
BAD SPORTS touchstones are classic first-wave punk, the Ramones and the Clash prominently, bands whose buzz-saw riffs slice right through bubblegum worthy melodies. They sound just like the Ramones on "Can't Just Be Friends," and superbly Clash-like on the chord-crashing, "You Don't Want to Know." And the best thing – opposite to many punk bands – they don't take themselves too seriously!!! "I'm In Love With Myself" is a palm-muted paean to narcissism. "Who needs girls when you've got a mirror?", indeed. Their two albums are filled with irony and black humor. Punk Rock with some Garage Noise!
AFTERWARDS: WINTER DUNCE PARTY! Shake your hips and bump asses with the coolest cucumbers of them all! Two Monkees on Acid DJ-Team service all vinyl 60ties/action roccanrol/freakbeat/fuzz scorchers all nite long!!! SHOUT BAMALAMA!!!
Don't snooze, bring your remarkable ass to the p.m.k, and tell everyone who likes to freak out (except the blond hysteric girl and her mini metal boyfriend who caused trouble at the WHITE MYSTERY show …). About 4 gazillion party hits will be served after the show by a fine selection or drunken Deejays.
---