SIMON BETHLEHEM RAINER_x-max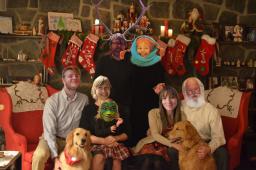 SUPP'N SOUND

live:
KLAUS ZEBRA | SIMON MERRY XMAS RAINER
MAX TRACKER AND THE HANGMEN`S REST
JOSE Y ENRIKE
Musik aus der Keksdose: Beat*e und SMR
Egal ob Weihnachtsmann oder Christkindl, Lametta oder Engelshaar, Glühwein oder Punsch, Weihrauch oder Myrrhe, Kaufrausch oder Besinnlichkeit...
Froh und munter geht es zu bei Supp'n Sound. Die Suppen köcheln und die Gitarren klingen!
Die musikalische Bescherung überbringen bekannte Gesichter:
Klaus Zebra, Simon Merry Xmas Rainer, Max Tracker and the Hangmen's Rest, José y Enrike!
---