Voodoom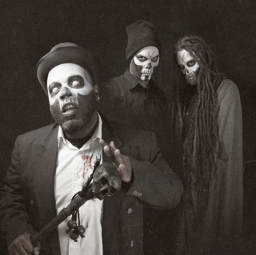 VOODOOM (nl)
VOODOOM are Bong-Ra and Deformer featuring Scapu Lox on vocals. Dark Ritualistic Breakbeat Jungle. Inspired by early 90's UK Jungle and Darkstep mixed with the clear trademark sound of these two established producers. The Surinam lyrics by Scapu Lox, a community strongly present in Rotterdam, is completely unique to this genre.
For those who aren't acquainted with Bong-Ra's sound will be in for a pleasant surprise. As one of the pioneers of the Breakcore genre, Bong-Ra has managed to mix all his musical influences into a furiously energetic style. No remorse and no concession. Where other artists stick to their musical blueprint, Bong-Ra never stops the pursuit of musical development, hoping to catch his listeners off guard every single time.
Deformer pushes musical boundaries since the early 90's as one of the frontrunners of Dutch Jungle music. Their sound fuses different genres into a venomous blend of electronic mayhem, wrapped in a claustrophobic atmosphere of horror. Deformer attracts a wide audience because of their hybrid productions and extended this when they created the sub-genre 'Defcore' where Hardcore Gabber and Dubstep meet. With no Facebook or Twitter account, Deformer stays more underground than ever, a place that suits them best.
---