BASSED IN HELL pt. 1_flyer
| | | |
| --- | --- | --- |
| Archiv: Flyer | GrafikerIn: --- | Erscheinungsdatum: |
Lovegoat presents
BASSED IN HELL pt. 1 feat.
LOOP STEPWALKER (Ad Noisem/prspct/Wicky Lindows/CultureAssault)
Minos (CultureAssault/Darkbox/Bassintoxication)
The GrooveShepherd (The Collective)
Masstricks (jimmy's)
SoundKnecht (lovegoat/Schererei)
Daddy Down (lovegoat)
---
| | | | |
| --- | --- | --- | --- |
| Samstag 05.05.2012 | Beginn: 22:00 | 8.- | hosted by lovegoat |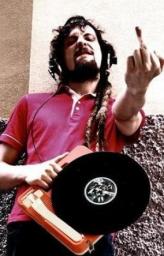 Lovegoat presents
BASSED IN HELL pt. 1 feat.
LOOP STEPWALKER (Ad Noisem/prspct/Wicky Lindows/CultureAssault)
Minos (CultureAssault/Darkbox/Bassintoxication)
The GrooveShepherd (The Collective)
Masstricks (jimmy's)
SoundKnecht (lovegoat/Schererei)
Daddy Down (lovegoat)
Jordi Calviño Pedreira a.k.a Loop Stepwalker, was born in La Coruña (Spain) in 1985. This young restless mind is one of the main Spanish Dubstep stalwarts; running the Culture Assault / Cultdub label, and also working on the creation of a new dubstep sound made with a blend of hardcore basslines, electrifying leads and stunningly brutal beats. Joining the ranks of the heavier end of the sound, to give as result some of the hardest vibes in Dubstep today.
An artist constantly involved in the scene, he continues to work on many projects with well known artists and has been sharing decks with DnB and Dubstep legends for quite some time now. His talent has been spread widely across Spain and Europe; playing at some of the most representative venues of the hard style, as well as big festivals. His experience, heavy tunes and skill behind the decks make Loop Stepwalker a sure shot for delivering dancefloor madness everytime...
Supported and collaborating with artists such as Cooh/Balkansky, Broken Note, Sinister Souls, Counterstrike, Niveau Zero and many more.
---