Mike Watt & The Missingmen Live at p.m.k on 2014-04-01
Archiv: Audio
ProduzentIn: Peter Chiochetti
Aufnahmedatum:

Die, 1. Apr. 2014
TRACKS:
01 Hyphenated-Man
02 [Encore] *
LINE-UP:
Mike Watt: bass guitar, vocals
Tom Watson: guitar, vocals
Raul Morales: drums
*featuring Guess What and L'Œillère
House Mix: Rudy Ouazene
From mouse to thunder in under five seconds!
---
Dienstag 01.04.2014

Einlass (Film): 19:30
Konzerte ab 21:00
€ 10.-
hosted by Trio Flanell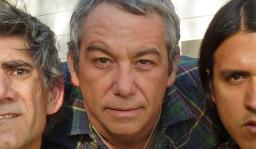 MIKE WATT & THE MISSINGMEN (usa)
"Hyphenated Man"
Was soll man über diesen Mann nur alles sagen? Punk Urgestein, Bassist extraordinaire für the Minutemen, Firehose, Iggy & The Stooges und unzählige andere, ist er wohl schon die Hälfte seines Lebens auf Tour. Mr. Watt bringt uns sein neuestes Werk, "Hyphenated-Man", auf die pmk Bühne. Basierend auf den Bildern von Hieronymus Bosch, ergründet Watt das eigene Älterwerden anhand von Sprichwörtern und Allegorien und heftet diese mit seiner Idee von Punk aneinander. Unterstützt wird er dabei von seinen treuen Mitstreitern Raul Morales und Tom Watson (The Red Krayola, Slovenly), den Missingmen. Vor Konzertbeginn zeigen wir die Minutemen-Doku We jam econo.
---