THE PHARMACY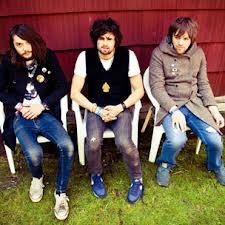 THE PHARMACY (Seattle)
VORMÄRZ (Ibk)
+ das TRIO FLANELL DJ-TEAM!
THE PHARMACY is a psychedelic/indie punk band from Seattle, Washington, consisting of three members: Scott Yoder (guitar, lead vocals), Brendhan Bowers (drums, backing vocals), and Stefan Rubicz (keyboards, backing vocals). They have played with Kimya Dawson (The Moldy Peaches), Jeffrey Lewis and Japanther and are famous for an outrageous live show full of debauchery, sweat and unpredictable moments.
The Josephine EP is the band's latest effort after 3 albums/numerous EPs and has been recorded in the same studio that Nirvana recorded Bleach in. The upcoming album Stoned & Alone will be released on Seayou Records in fall 2012. 1960s girl-group style reverb and drum beats, along with a simple approach to danceable pop music!!
FUN FUN FUN!!!
VORMÄRZ sind eine junge Indie-Rock/Pop-Band aus Innsbruck, die sich musikalisch zwischen Bands wie Tocotronic, Element of Crime, Peter Licht und Tomte bewegen. Die deutschen und englischen Texte der Band werden von wilden bis ruhigen Gitarren, treibendem Bass, energischen Drums und elektronischen Synthi-Tönen begleitet. Im Dezember 2011 veröffentlichten sie unter dem Namen The Grassheads ihre erste EP ('Wunderschön').
---